Wayne working at the Deming Log Show
A little something about me

I was born near Boston and moved to Alaska at an early age. While seving in the Navy, in Memphis and then on Whidbey Island, I started working with horses. This later gave me the opportunity to work with local farriers. By heating and shaping horseshoes, I learned what was possible in hot metal.

I was introduced to a third generation blacksmith in a town near the base. Mr. Ernie Landry, opened my eyes to a whole new world of blacksmithing other than shoeing horses. After just a short time, I was working part time in his shop. These skills learned forging parts for various farm machinery to building gates and fences established the foundation I needed.

Over the next 40 years, I have been very fortunate to have learned from a number of amazing blacksmiths. In the spirit of passing on this age old craft, I love doing demonstrations using a 5 ft. bellows, at festivals, events and also teach at blacksmith conferences. To learn more about blacksmithing go to my links page.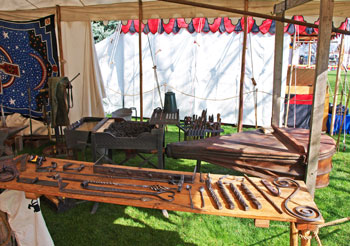 an inside view of my demonstration tent